A new chapter …
A new chapter in an old clubs' history has been written. As of 2017 we are now officially known as Curtin University Hockey Club, the dominant orange colour remains and the embraced affiliation with Curtin University paves the way for a bright new future, both on and off the field. Our home turf remains as Perth Hockey Stadium but our home grass grounds now change to the Curtin University ovals.
The legend continues …
Curtin Trinity Pirates Hockey Club was formed in 1998 through the merger of two of the strongest Men's and Women's First Division Clubs of recent years – Curtin Trinity Tigers Hockey Club and The Pirates Hockey Club. The decision proved to be a great one, with the new Club being successful in winning Premierships in the First and Second Divisions of both the Men's and Women's competitions in their inaugural 1998 season. Each of these two original clubs had a strong history of their own. The combination of the Tigers colours and the Pirates name means that the important history of each club has been retained.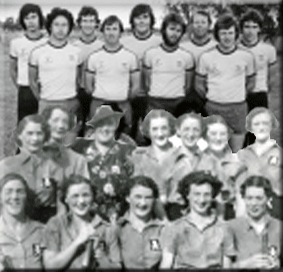 Pirates Women's Hockey Club originated in 1931 with a team entered in D grade. It is coincidental that their first registered colours were those used today – navy and orange. The founding secretary Mrs Pat Goodridge approached (Pirated) several friends from other teams to form a new club, hence the name. Since reaching A1 grade status in the 1940′s the Pirates team has rarely been out of the top four, winning many premierships. Throughout the years they have shared the facilities of Subs and Aquinas before fully amalgamating with Curtin Trinity. Trinity Hockey Club (originally CBC) starting in 1941 with their first Junior team. 1945 saw their first Senior team nominated in the WA hockey competition. The name changed to Trinity in 1965 when the College moved premises to its current site next to the WACA. The Clubs current home grounds of Trinity Playing Fields, on Manning Road Waterford, were first used in the 70′s.
Curtin Hockey Club (originally WAIT, started 1973) changed to Curtin University in the late 80′s and merged with Trinity to form Curtin Trinity Tigers in 1991. Over the years all three clubs have developed many top class players. The first year of Curtin Trinity Pirates in 1998 saw no less than 26 members representing State or Australian teams along with Premierships in six grades. In its short history since the merger the Premierships have continued to flow and players continue to break into National and International ranks.
---
Women's Premierships
Pirates

1969

1970

1986

1991

1996

Curtin Trinity Pirates

1998

2000

2003

2012

2013
Men's Premierships
CBC Trinity

1955

1956

1961

Curtin Trinity Tigers

1997

Curtin Trinity Pirates

1998

2000

2001